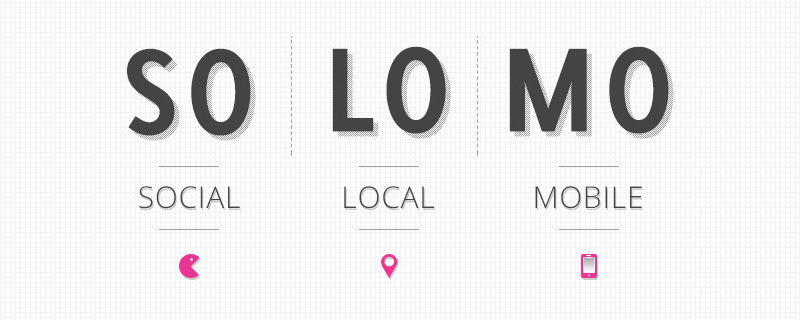 A new trend has appeared since the beginning of the year: the arrival of digital technology in our stores.
For a long time, we tried to oppose physical outlets and online stores, thinking that the second one would cannibalize sales, but now marketers understand that there is a necessary complementarity between these two experiential, relational and commercial worlds.

The customer is multichannel!
If you haven't heard about SoLoMo trend yet, it's about time that you get to know it. SoLoMo stands for the combination of SOcial media, LOcal search and MObile.
In fact, today, the Internet is not accessible only from a computer, from home or work… the Internet is "everywhere": on your phone, on your TV, on your car, on connected objects… and in our stores too! Digital and mobile technologies have taken an increasingly important role in our daily lives of citizens, professionals and consumers. We have all become multichannel clients insofar that we use several channels in a purchasing process. For instance, we use a mobile phone in a store to scan a QR code that will redirect us to a website that delivers the characteristics of the product. We shoppers love going to stores as they provide an additional service compared to e-commerce sites. This is why we see more and more pure-play e-tailers get into the physical world.
It's also the whole in-store experience that is changed with the digital inputs. Here are some relevant examples of digitization in connected stores:
Diesel Cam
In 2010, Diesel stores in Spain introduced an interactive installation that offered shoppers to photograph themselves in the fitting rooms and share their new outfits on Facebook.
Kiabi Shopping Connect
Same concept, centered around sharing your in-store experience and your looks on Facebook, has been launched in a Kiabi shop in Villeneuve d'Ascq, France.
However, the process is a bit different. Here are the different steps for your connected shopping experience:
Get your bracelet on Kiabi Facebook page or directly in store
Activate your bracelet through the touch screen terminal at the store entrance
Share on live what you like on Facebook
Get an immediate 10% discount on your purchase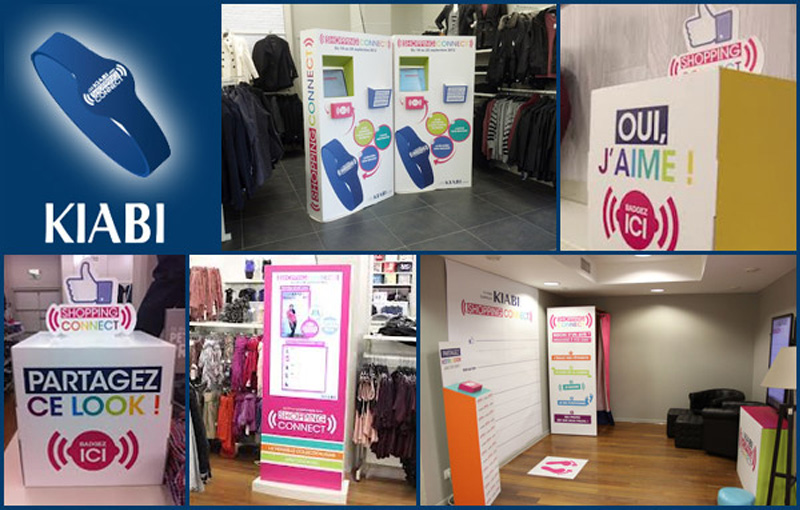 Leroy Merlin
To help their customers quickly find the products they want, Leroy Merlin has deployed touch screens in store. Customers can locate articles in stores and search for additional information such as product description, prices, and reviews left by previous buyers.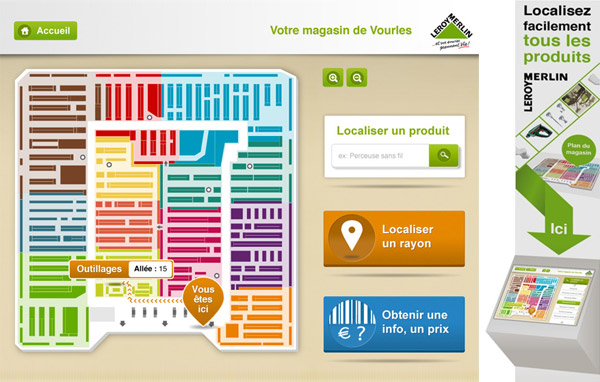 Burberry Flagship Store
Burberry uses digital-first thinking and constant innovation thanks to augmented reality in its store on Regent Street, London.
Interactive full-length screens greet shoppers as they walk in the store. Many clothing articles have also been chipped with RFID (Radio-Frequency Identification) technology. These chips interact with store mirrors to show multi-media content (such as video clips showing examples of what your item can be paired with).
IBM wants to launch augmented reality in grocery stores
IBM has created an augmented reality mobile app to help smartphones users to get details on products in store shelves such as the list of ingredients, prices, recommendations and special promotions.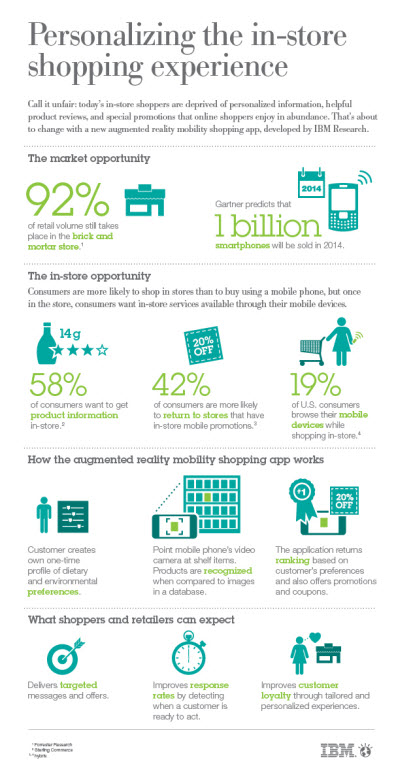 Don't hesitate to share other examples ! =)