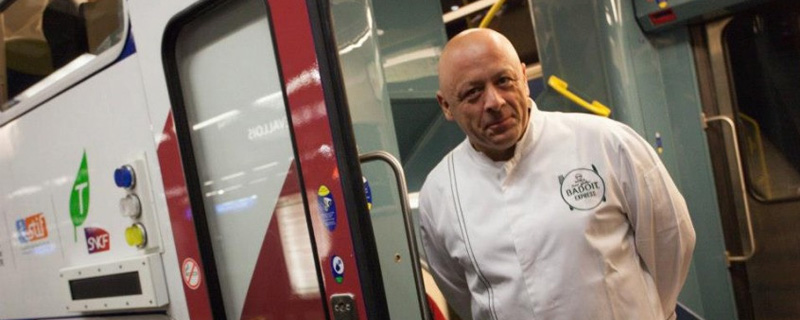 Paris, September 21, 2012, 8.15pm. A queue of 90 butlers on the platform, white tablecloths in the cars, Chef Thierry Marx at the helm of The "Badoit Express". RER-C Passengers experienced an exceptional moment.

Here is the experience of the year that has been given to the RER-C passengers last Friday in Paris. On the platform, a train delay was announced, so far nothing unusal? After a few minutes, the passengers were able to get on the train and this is where their adventure begins. From the next station, an armada of waiters boarded the train and set up tables, tablecloths, towels, menus. At the same time, the driver of the train has been changed by Chef Thierry Marx, Executive chef Mandarin Oriental Paris, 2 michelin stars, who announced the program of this unusual trip: a dinner he cooked up with the help of Badoit for the feast of French gastronomy.
In 30 minutes, The "Badoit Express" will have served 400 guests thanks to 90 butlers, 3 meals and 36 gallons of Badoit sparkling water.
An event created by agencies Elan and Ubi Bene.